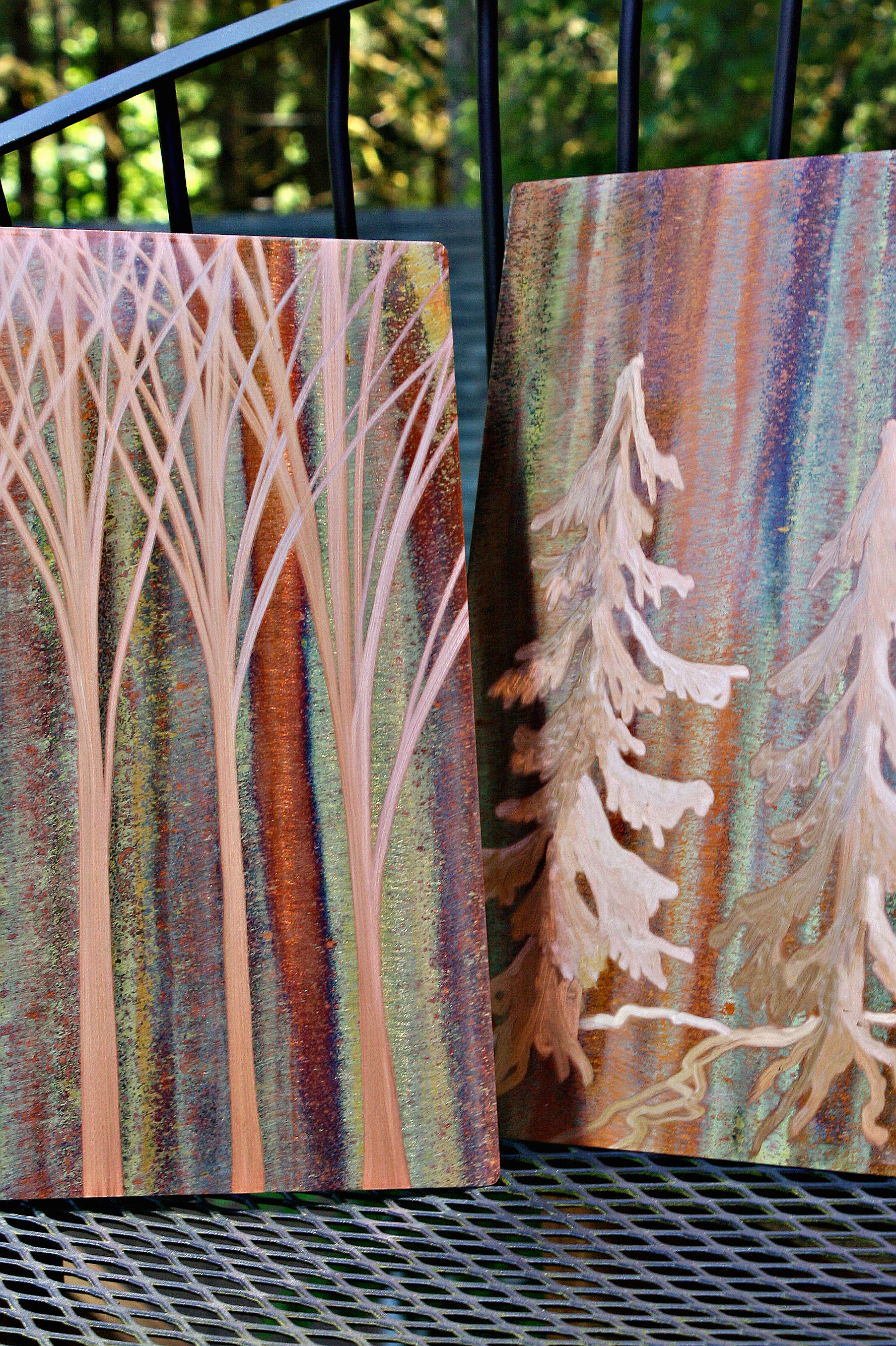 Art Born of Fire.
FireSmith Copper is a husband and wife team of artists. We use the purest copper, manipulated to enhance its elemental characteristics and created with free hand craftsmanship, resulting in works of art whose function is solely aesthetic. We seek to expose the innate hidden properties that this ancient and utilitarian metal holds. These properties, such as luminosity and flexibility, are showcased after we prepare the surface with modern tools, materials, and processes. A harmony of the ancient material and modern techniques culminate to a multidimensional work whose aesthetic experience quietly speaks of the process and material.
The multidimensional quality of the the finished work arises from multiple layers of color eclipsed by the action of various design processes on the surface of the copper. The design process begins when the copper is prepared with hand tools to ensure a blemish-free, pristine "canvas" on which the color will be deposited. Without the use of chemicals, acids, dyes, or paints; color is exposed on the copper by oxidation catalyzed by ONLY heat. We paint with flame, freehand with a torch, which allows the colors within the copper to be exhibited. We use many different gases, pressures, and temperatures which diverge from traditional metalwork. These techniques produce colors that are not commonly harnessed with typical oxidation methods. After color is introduced, the design process is completed with various hand tools.
The designs we choose to portray are ephemeral and live momentarily in the studio. Each day brings a different motivation to the design process that is idiosyncratic and cannot be replicated. This fleeting design process creates a distinction between works, even when a specific design is reproduced; each design has a life of its own and no two works are the same. The designs are drawn on the surface, freehand, with abrasive tools. The imperfect movement of the human hand is evident in the individual abstract and representational designs that are displayed on the surface of the copper.
The surface design is completed by using punches, hammers, and other common metalworking tools to embellish the image. A wood frame is hand made by the artist and altered as needed to fit the requirements of the piece. The finished sheet of copper is formed around the wooden frame to classically exhibit the work of art. Finally, the finished copper piece is clear coated to preserve luminosity, protect the design, and prevent further oxidation.
Our process dictates that no two pieces are created the same, every piece is its own unique expression. You will always get an original at FireSmith Copper.